Here's what CALIFORNIA RESIDENTS ONLY get for $420:
* The classic Trafficking board game
*One ounce of something absolutely (indoor) top shelf -- like OG KUSH or SOUR DIESEL or SUPER GLUE or LEMON OG (please feel free to send an email – trafficking1983@gmail.com -- prior to ordering to find out what the latest dank bud we have to offer)
*Mini-baggies (so, if desired, you can actually play Trafficking buying and selling bags of real weed…kinda like playing Monopoly with real money!)
*All taxes included
*Free Delivery to any California resident 18 years of age and older by a CA delivery service.

As up to 9 people can play Trafficking, how about this for a suggested method of shared payment:
a. 9 buds (or as many as want to get in on the winner-take-all Trafficking caper) are gathered
b. Each bud puts in $47
c. Game arrives with an ounce of top shelf weed
d. Read rules (kinda important) and play the game.
e. Winner claims game…and what's remaining of the ounce after the game…OR – keep sharing (preferred method)
The Underground Games Company is totally stoked about getting TRAFFICKING back into circulation! The classic game hasn't changed and we are seriously grateful for the awesome support TRAFFICKING fans have given us spaced earthlings since day one.
Thank you and enjoy!
Order Information

Order safely and securely through PayPal:
Trafficking Board Game plus California Bundle

TRAFFICKING board game:

$ 420.00 each

shipping:

$ FREE !
Trafficking Board Game - Worldwide FREE Shipping

TRAFFICKING board game:

$ 100.00 each

shipping:

$ FREE !
View PayPal Cart -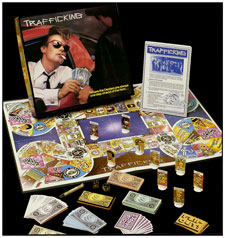 FINAL TRAFFICKING
board games